THE INTERNATIONAL COMMITTEE
(Olga Leibu, MD and Khadijah Booth-Watkins, MD with Carolina Zerrate, MD)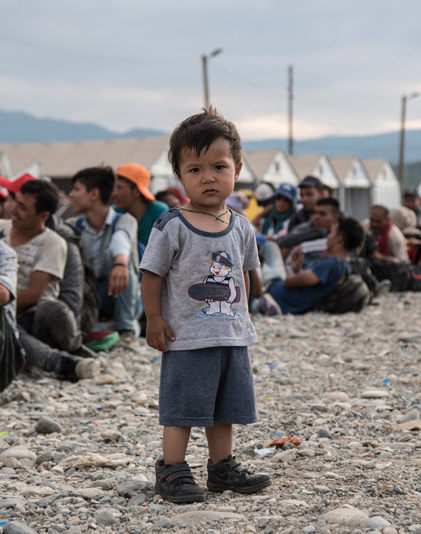 "

Immigration and Human Rights--
What Mental Health Providers Need to Know
About Working with Immigrant Children and Their Families-- Experiences from 4 NYC Perspectives

"
(register onsite)
---
Location:
New York Presbyterian Hospital-Weill Cornell Medical College
Room F 1190 (11th Floor)
525 East 68th Street (corner of York Avenue),
New York, NY 12345
---
Lorilei A. Williams


Attorney-Director of Immigration and LGBTQ/HIV Advocacy at Staten Island Legal Services (SILS)

Through immigration advocacy, SILS provides holistic services to Staten Island immigrants and direct representation in a wide-range of immigration matters, including U and T-visas, VAWA self-petitions, family petitions, citizenship, asylum, Special Immigrant Juvenile Status, and removal defense. SILS' immigration practice has developed particular expertise working with LGBTQ/HIV asylum seekers and complex derivative citizenship cases. SILS' LGBTQ/HIV Advocacy project is a new addition to the organization, providing much needed services to Staten Island LGBTQ/HIV communities such as medical advocacy, gender marker changes, and name changes. Prior to joining SILS, Ms. Williams worked with detained unaccompanied minors in federal custody and specialized in working with minors with criminal history, mental health needs, and severe trauma history. Before this, Ms. Williams represented domestic violence survivors as the sole immigration attorney for a domestic violence shelter. Ms. Williams is admitted to the state bars of New York and Texas. She is a graduate of Washington University in St. Louis School of Law, where she was the recipient of numerous recognitions reflecting her dedication to public service, her skills in oral advocacy, and her academic achievement. She received her bachelor's degree from the University of Maryland.




Alexander D. Kalogerakis, MD

Clinical Associate Professor of Psychiatry at Weill Cornell Medical College, and Assistant Attending Psychiatrist at New York-Presbyterian Hospital

Dr. Kalogerakis is a Child/Adolescent Supervising Analyst of the American Psychoanalytic Association and a member of the Faculty at the New York Psychoanalytic Society and Institute. He is a member of the United Nations Committee of the International Psychoanalytical Association. He has written book chapters on adolescent identity and culture, and is a contributor to Auchincloss & Samberg's Psychoanalytic Terms & Concepts (Yale University Press 2012). His recent chapter in The Status of Women (ed. Vivian Pender, Karnac Books, 2017) is entitled : "Women and migration: children on the move". He resides and works in New York City, where he has a private practice in child, adolescent and adult psychiatry and psychoanalysis.

Cristina Muniz de la Pena, PhD

Mental Health Director and co-founder of Terra

Firma at Montefiore Medical Center and the Children's Health Fund

Dr. Muniz provides mental health services to unaccompanied immigrant children, with a focus on adolescence, complex trauma, family-systems therapy, and acculturation. Cristina has worked with immigrant children and families in Spain and in the U.S. She is co-author of "Terra Firma: Medical-Legal Care for Unaccompanied Immigrant Garifuna Children," Harvard Journal of African American Public Policy (2015) and "How Do Therapists Ally With Adolescents in Family Therapy? An Examination of Relational Control Communication in Early Sessions," Journal of Counseling Psychology (2011). Cristina earned her doctoral degree from the State University of New York at Albany and her expert certificate in family-systems therapy from the Unidad de Investigación en Intervención y Cuidado Familiar at the Universidad de A Coruña in Spain.




Brett Stark, ESQ

Legal Director and co-founder of Terra Firma at Catholic Charities New York

Mr. Stark represents unaccompanied immigrant children in federal and state litigation, specializing in asylum and Special Immigrant Juvenile cases. A former Equal Justice Works fellow, Brett has worked in refugee resettlement in Kenya, on human rights in Israel, and was a 2008 Fulbright Scholar in Taiwan. Brett is the co-author of "Terra Firma: Medical-Legal Care for Unaccompanied Immigrant Garifuna Children," Harvard Journal of African American Public Policy (2015), and "Playing Solomon: Federalism, Equitable Discretion, and the Hague Convention on the Civil Aspects of International Child Abduction," Roger Williams Law Review (2014). Brett is a graduate of Harvard Law School and the University of Rochester, and is admitted to the New York Bar and the Eastern and Southern Districts of New York.

Alan Shapiro, MD




Medical Director and co-founder of Terra Firma; Assistant Clinical Professor in Pediatrics at Albert Einstein College of Medicine and Senior Medical Director for Community Pediatric Programs (CPP), a collaboration between the Children's Hospital at Montefiore (Bronx, NY) and the Children's Health Fund

Dr. Shapiro has lead medical teams in the aftermath of Hurricanes Andrew, Katrina and Sandy and is the recipient of the 2012 Children's Health Fund Founders' Award. He is the co-author of "Terra Firma: Medical-Legal Care for Unaccompanied Immigrant Garifuna Children," Harvard Journal of African American Public Policy (2015). He received his BS in psychology from Emory University and is a graduate of State University of NY Health Sciences Center at Brooklyn, and completed his residency in Pediatrics from Montefiore Medical Center's Residency Program in Social Medicine.




Lauren Pesso, LMSW, MPA




Program Director of the Human Rights Clinic (HRC), HealthRight International

Ms. Pesso is responsible for overseeing the HRC's work providing forensic and case management services to immigrants fleeing torture and other severe human rights abuses. Over the last 15 years, Lauren has worked to address the health and wellbeing of vulnerable populations in the United States and abroad—as a program manager, counselor and researcher. Directly prior to her work at HealthRight International, she helped establish and oversee an anti-human trafficking program in Westchester County, NY. She holds a Masters of Social Work (MSW) and a Masters of Public Administration (MPA) from Columbia University, and a Bachelors Degree in Sociology and Religion from Wesleyan University.

Brief Description:
Please join us for a compelling evening with an extraordinary group of multidisciplinary professionals who have dedicated their lives to humanitarian work with immigrant children (refugees, asylum seekers, undocumented minors, documented minors, etc.) and their families. They will share their experiences and perspectives, from individual and organizational work, and impart wisdom on what we need to know when working such children and their families. They will also educate us about the importance of collaborative care between mental health, advocacy, legal representation, and pediatrics to meet the needs of these populations. Finally, they will discuss the implications of the new executive order on immigration on these already vulnerable populations.
Objectives:
To increase awareness of the needs and current status of immigrant children and their families.
To learn 4 different approaches to addressing issues with such underserved populations.
To think about recent political implications on these vulnerable populations.
---
For more information, please email info@nyccap.org.